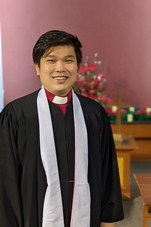 Rev. Gabriel Ling
Proverbs 4:1-9, 1 Timothy 5:4
Proverbs 4:1-9
Get Wisdom at Any Cost
4 Listen, my sons, to a father's instruction; pay attention and gain understanding.
2 I give you sound learning, so do not forsake my teaching.
3 For I too was a son to my father, still tender, and cherished by my mother.
4 Then he taught me, and he said to me, "Take hold of my words with all your heart; keep my commands, and you will live.
5 Get wisdom, get understanding; do not forget my words or turn away from them.
6 Do not forsake wisdom, and she will protect you; love her, and she will watch over you.
7 The beginning of wisdom is this: Get[a] wisdom. Though it cost all you have,[b] get understanding.
8 Cherish her, and she will exalt you; embrace her, and she will honor you.
9 She will give you a garland to grace your head and present you with a glorious crown."
1 Timothy 5:4
4 But if a widow has children or grandchildren, these should learn first of all to put their religion into practice by caring for their own family and so repaying their parents and grandparents, for this is pleasing to God.